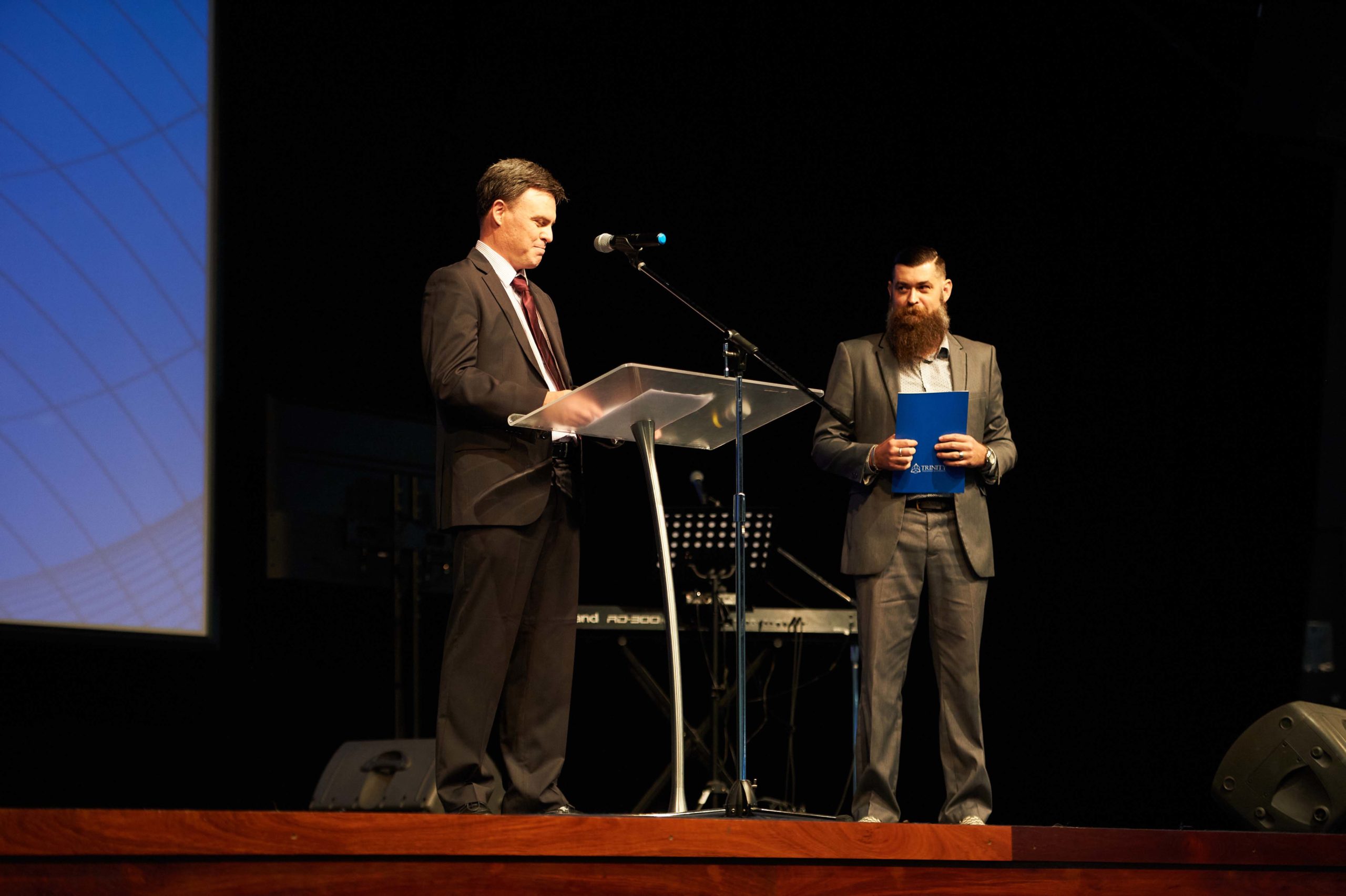 On the night of Tuesday 23 February Trinity held its annual Commencement and Graduation Ceremony. A diverse crowd gathered at North Coast Church in Balcatta from across Perth and beyond to particularly recognise and celebrate God's work in the lives of those graduating.
For those having undertaken degree-level courses, a total of 10 people graduated with one-year  theological degrees in either a Diploma of Theology
or a Graduate Diploma of Divinity. An additional 6 students graduated with a Bachelor of Theology, Master of Ministry, or a Master of Divinity degree – all three-year degrees.
Two further students graduated having undertaken additional study to complete research projects – what is called a Research Training Pathway that opens the door to various research degrees.
Finally, a total of 6 people graduated with either Trinity's Certificate in Christian Studies or Advanced Certificate in Christian Studies.
Phil Beeck, the Senior Minister at Albany Baptist Church, preached on Psalm 19. Although unable to attend in person due to an illness, via the means of technology and prerecording, Phil's sermon was
'played' – but it was very much as if he was physically present! God's Word was opened, spoken, and applied. Phil made three points from Psalm 19. First, God's Word 'wows' (vv1-6). God has spoken a creational Word, where the heavens testify to his glory and worth. Second, God's Word 'works' (vv7-11). God's spoken Word provides the parameters and transformation for a fulfilling and
God-glorifying life. Third, Phil pointed out that God's Word 'whacks'. Like the sun that shines and thus reveals, God's Word also reveals and whacks us to the reality that as humans we do not naturally submit to God's glory and the rule of his Word. Our only ultimate hope is repenting of our sin and placing our trust in Jesus, God's incarnate Word. Only in this way can we truly live to the glory of
God and be empowered to speak God's gospel Word to others. As God's Word has changed us, so
we pray that God would be pleased to use us to speak his Word to others so that they too might be saved and brought into the kingdom of his Son.
It was such an encouraging night! What a privilege
to join with so many others to hear God's Word,
to sing his praise, to honour his faithfulness in the lives of the graduands, and to pray in earnest that they would be sustained in faith, hope, and love by the gospel to the end. May God continue to show his grace and raise up many, many more workers
for his harvest, so that the light of the gospel would shine like the sun across the world and through this that he would eternally save those who are his.
David Kummerow
Lecturer in Old Testament